You insure your inventory, your offices, and your employees, but how are you protecting your receivables?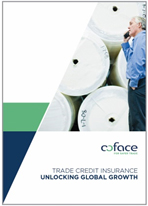 By choosing to self insure, many companies are regularly turning away great business opportunities. That is why every year, more of them sign up for trade credit insurance.

Coface, a worldwide leader in risk analysis and credit insurance, wrote this white paper to help you understand quickly what trade credit insurance can do for your businesses.